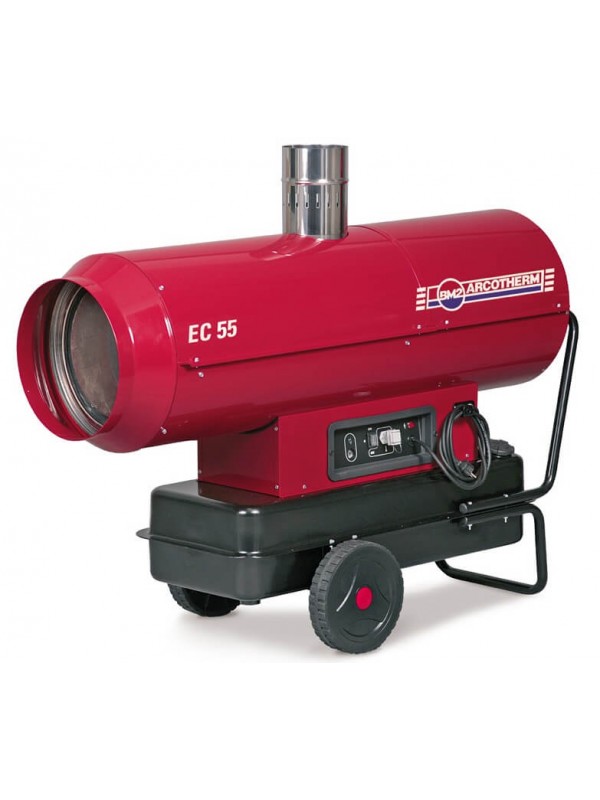 | | |
| --- | --- |
| Model | EC 55 |
| From | Biemmedue |
| Heat Efficiency | 89,5 % |
| Air Flow | 2500 m3/h |
| Fuel Consumption | 4.64 l/h |
| Heating Capacity | 51 kW |
| Electrical Power | 850 W |
| Tank Capacity | 65 l |
| Air Temperature | 66 °C |
| Heater Dimensions | 1435 mm x 555 mm x 940 mm |
The EC55 has an output of 51kW (175,000 BTUs / Hr). Its dual voltage option also makes the EC55 very popular with the tool hire industry for use in construction, and the horticultural / agricultural sector for the heating of glasshouses, polytunnels and grain drying applications.
The EC55 is supported by a 65 litre metal fuel tank, which in turn connects to the metal sheathed, hydrocarbon resistant rubber fuel hoses; the 4.64 Liters / Hr fuel consumption means that the heater will comfortably operate continually for 12 hours in the manual position (I), but the heater is most likely to be used in conjunction with the Heavy Duty Thermostat (02AC582), with the main switch set to position (II).
The EC55 has an AISI 430 Stainless Steel Combustion Chamber, with four smoke revolutions for increased efficiency; the unit's combustion is governed by an electronic control box, with an electronic flame control sensor and safety thermostat also as standard. The fuel is delivered at a consistent pressure by way of a Suntec fuel pump, driven directly off the motor.
The heater can be purchased with a range of "marquee packages" designed to suit both budgetary and practical requirements; the ducting is manufactured with a hypalon, high temperature lead, and is available in 3m and 7.6m lengths. Other accessories available include a two-way splitter, pneumatic wheel kit and pre-heat oil filter.
The EC55s are often required to heat semi-permanent or permanent structures, and in these circumstances the heater can be converted to a single pipe system by way of a tigerloop; the heater would then usually be connected to a bunded fuel tank or other such IBC (Intermediary Bulk Container).
Constant speed motor electronics: Yes
Reduced single impact energy: 17.5 J
Interference immunity: Yes
Mains frequency: 50 Hz
Tamping tool – length 430 mm
Earth rod rammer – width max. 25 mm
Brushless motor: No
Protection class II
Double insulated (Class II)
Equipped with Theft Protection System: No
Reduced hammering frequency: 1700 impacts/minute
Needle adapter: No
Base material Brick, concrete and fibre
On/off switch: Yes
Working direction Floor and wall breaking